Meet and greets are ways where fans can go and see the Janoskians. At meet and greets you can buy merchandise, ranging from posters to CD's to shirts. You can get autographs and even have a little chat with them also. There have been many meet and greets across Australia in 2012.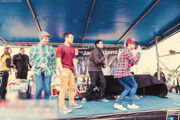 Ad blocker interference detected!
Wikia is a free-to-use site that makes money from advertising. We have a modified experience for viewers using ad blockers

Wikia is not accessible if you've made further modifications. Remove the custom ad blocker rule(s) and the page will load as expected.